In the early 1990′s Blue Whales began to appear in Northern California, near Monterey and the Farallon Islands. According to the sightings log at the Monterey Bay Whale Watch Company between 1998 and today they saw as many as 1118 Blue Whales in one 'summer' alone. I say 'summer' because in that year, according to the MBWW log, the Blues arrived in June and were still present (62 sightings) in December! Things have changed since that year. The last great year was in 2004 when they saw 405 whales. Since then, they have become increasingly scarce with just 9 sightings in 2008. Please note: There are still extraordinary sightings of Humpbacks, numerous species of dolphins, sea otters, and even Sperm whales in Monterey, so if you're heading that way, please call our friends at MBWW. They are really great folks who offer one of the best whale watching experiences we've ever had and inspired me to begin keeping our own sighting log back in 2002.
Conversely, the sighting of a Blue Whale off the coast of Orange County was a rare event through 2003. In 1999, 2000 and 2001 Capt. Dave's Dolphin & Whale Safari only observed about one to three Blue Whale each summer on our three to seven mile trips from Dana Point. Each time it was such an unusual event that it made the five o'clock news. All that began to change in 2003 when we sighted 74 Blues in one summer.
Since then, as you can see from the above table, things have improved and that in 2006 we saw a record 440 Blue Whales. ***Numbers appear down in 2008 because we had our new boat, the Manute'a, which accommodates 49 people so we did about half as many trips.
Capt. Dave's Dolphin & Whale Safari
Year
First Sighting of the Year
Last Sighting For Year
Most Sightings in One Day
Total Sightings For Year
2000
July
July
1
1
2001
July 15
July 17
3
3
2002
June 22
September 7
3
10
2003
May 10
October 10
9
74
2004
June 16
September 18
17
110
2005
June 8
August 27
10
51
2006
June 12
September 25
32
440
2007
May 20
November 13
20
283
2008
May 18
December 3
9
167***
2009
May 15
???
19
354 (as of 10/21/09)
It's been an exciting and historical time for Blue Whale sightings here and after reviewing the sightings for Monterey, we can only assume that we need to enjoy every moment we have because each year is different.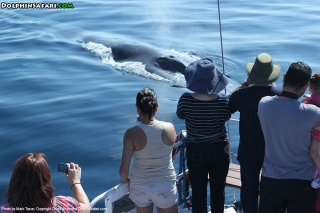 In our opinion, Blue Whales are absolutely beautiful and breathtaking. Unlike the bumpy, barnacled Gray Whale, these magnificent animals have smooth skin, marked only by the remorrah fish that hitch a ride to feed off the krill that spills from their mouths. The coloration is blue to light blue in a beautiful mottling that can be seen when up close. When a Blue whale surfaces and exhales, the sound is unlike anything I've ever heard. As their breath is released at approximately 200 miles an hour and forced through blow holes that have a striking resemblance to our own noses, the water is vaporized, shooting into the air, sometimes as high as 30 feet. The sound seems to thunder, then echo. As their body glides through the water, it seems as if it never end. Then, as a bonus the tail, measuring between 12 and 15 feet wide will sometimes lift into the air, offering a magnificent display. The "oohs" and "aahs" abound. Capt. Dave says, "Bigger than the dinosaurs, bigger than Elvis, the only thing bigger than a Blue Whale is God and you hear Him mentioned a lot when a Blue Whale is around…people are always saying, "Oh, my GOD!"