Daily Dana Point Whale Watching Trips with Captain Dave's Signature Safari
Whale watching from Dana Point, California, year-round with our popular Signature Dolphin and Whale Safari. It's two and one half hours of whale watching and dolphin watching every day aboard our catamaran sailboats. Our boats are safe, extremely stable, and designed especially for you to get up close and personal with the awesome dolphins and whales of Dana Point. You can be close enough to smell their breath!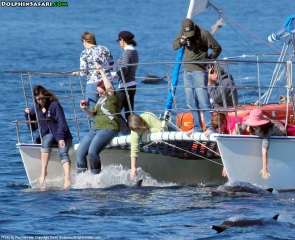 Bring the kids, family and friends to get really up-close and personal with five species of dolphins, some in herds of up to 10,000, plus Gray Whales (seasonal), Blue Whales (seasonal), Fin Whales, Minke Whales, Humpback Whales, and even occasionally Killer Whales. Our Signature Whale Watching Safari is an educational and incredibly exciting experience where you'll have a chance to get within arm's reach of wild dolphin while an knowledgeable marine naturalist explains how these animals live. Mrs. Captain Dave's yummy triple fudge brownies are served as a special treat on the ride back.
Availability: year-round
Length: 2.5 hours
Cost: $59 per adult / $39 per child (ages 3 to 12 ) / 2 years of age and under – no charge
Departures Times: Vary. Please call (949) 488-2828, email us, or reserve online
Reservations: Call (949) 488-2828 or book online