Join us to celebrate the migrating Gray Whales that use Dana Point's headlands as a landmark on their journey southward with a two-weekend Dana Point whale festival.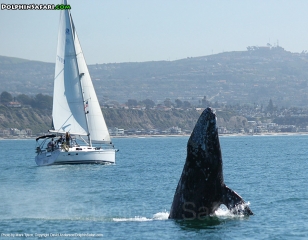 The Festival of Whales began 42 years ago as an annual seaside event in the town of Dana Point, California. Our community and visitors celebrate the migration of the Gray Whale and other species with ocean-theme events and activities with an emphasis on education and environmental responsibility. A variety of activities are scheduled for both in and around the Dana Point Harbor area with the main event being, of course, whale watching. Gray whales can be seen off Dana Point from December through April, and sometimes as late as May. They are often are seen within just a mile or so of the shoreline, where some believe they use Dana Point's headlands as a landmark on their journey, making them a popular whale to watch.  The Dana Point Whale Festival dates tend to be among the most popular for whale watching tours. Be sure to make your reservation in advance!
Dana Point Whale Watching
The most unique dolphin and whale watching in the world! Daily, year round, Dana Point whale watching trips aboard high-tech, high-speed, Catamaran Sailboat can get you up close & personal with magnificent blue whales (seasonal), gray whales (seasonal), fin whales, humpback whales, minke whales, orca whales, and five species of wild dolphins that can number in herds up to 10,000 and more for an educational and incredibly exciting experience. Our high-tech catamaran "Manute'a" is never crowded with a maximum of 49 passengers.
Be one of the pod and feel what it's like to swim with dolphins and whales without getting wet in our two Eye to Eye Underwater Viewing Pods. Knowledgeable marine naturalists explain how these animals live while you see and touch our collection of whale and dolphin artifacts. You can listen below the surface too with our research quality hydrophone. And Mrs. Capt. Dave's yummy triple fudge brownies are served as a special treat on the ride back.
Share your trip LIVE with friends and family back home at DolphinSafari.com, the first and only place in the world you can view whales and dolphins live from your computer during our daily whale watching excursions.
Captain Dave  is a marine naturalist, conservationist, photographer, author, and filmmaker, whose award winning film on Wild Dolphins & Whales has drawn people worldwide to Dana Point. Capt. Dave has appeared on ABC, CBS, NBC, local network affiliates, and featured on the Ellen Show for his conservation efforts and successful disentanglement of whales.
Whale Watching Trips | Daily
Dana Point's first year-round dolphin and whale watching company to offer daily trips!


When: Every day! Departure times can vary. Please call (949) 488-2828, email, or book online.
Length: 2 1/2 hours
Cost: $55 per adult, $35 kids 3 – 12 years old, 2 and under no charge
Reservations: Call (949) 488-2828 or book online
Whale of a View | March 9, 10
When: 11 AM to 3 PM. Showings every hour.
Where: Our Dolphin Deck at 24440 Dana Point Harbor Drive.
Cost: Free
More Information: (949) 488-2828 or email


Visit our Dolphin Deck at 24440 Dana Point Harbor Drive (next to Baby Beach) from 11:00 AM to 3:00 PM during the Dana Point Whale Festival for an exclusive FREE viewing of Captain Dave's award winning documentary "Wild Dolphins and Whales of Southern California" and purchase a signed copy of Captain Dave's DVD. Screenings every hour.  In 1995 Capt. Dave mounted an underwater camera and hydrophone on the bow of his boat and began taking his cameras on every trip to record what his passengers experienced first-hand. It took him five years to create the documentary, an experience that has forever changed his life.
Throughout the day relax and enjoy our Dolphin Deck with the best view in the harbor. You can even see our boat's live whale watching broadcast. Sandwiches, snacks, ice cream and refreshments are available to purchase.
Captain Dave's Carnival | March 9
When: 12 PM to 2 PM
Where: Our Dolphin Deck at 24440 Dana Point Harbor Drive.
Cost: Free Entry
More Information: (949) 488-2828 or email


Fun for the whole "pod"! Drop by our Dolphin Deck location at 24440 Dana Point Harbor Drive, (near Baby Beach), for FREE activities and prizes. Kids of all ages will have fun with games, crafts, and much more. Have your face painted or receive a balloon figure twisted just for you for a small fee.